Click over Logo to Home Page
Click here to WKA Website Directory
PRIORITY CLARINET AND MUSIC EVENTS 2016
June 2017 Newsletter
JUST RELEASED!
A new Stanley Drucker Heritage Collection of Five CDs covering over 46 years of Live Performances of Chamber Music and Recitals HAS JUST BEEN RELEASED and a must have for all Clarinetists. Of special interest is that the broad range of Solo, Recital and Chamber repertoire was selected by Dr Drucker himself spanning over four decades of live concerts performed outside the New York Philharmonic. Given the incredible history of 61 years in the Philharmonic and his Concerto accolades this collection should be an inspiration to hear. If you pre-oder now, Dr Drucker will autograph 35 CD sets for WKA members. For more information and to order contact: www.digitalforce.com/StanleyDrucker
31 May - 3 June 2017
Giocoma Mensi International Clarinet Competition
Breno (MS) Italy
31 May - 4 June 2017
Henri Selmer Paris Summer Clarinet Academy at Michigan State University - VIP Guy Yehuda, Director
East Lansing, Michigan
Artist Faculty as linked here: https://henriselmeracademy.com/index.php/program/faculty/
Guy Yehuda - Director and East Lansing Symphony
Stephen Williamson - Chicago Symphony
James Campbell - Indiana University
Michael Rusinek - Pittsburgh Symphony
Robert Spring - Arizona State University
Philippe Berrod - Paris Conservatory
Tasha Warren - Michigan State University
The 2017 Henri Selmer Summer Clarinet Academy offers an immersive experience at one of the top premiere summer educational seminars to young and talented clarinetists ages 18-30. International artists teachers will offer a unique opportunity for daily lessons and master classes. The academy is competitive and limited to 20 student participants, which makes the ratio of teacher/students 1:4. This will give each students a personal in depth opportunity to work on their skills. Join us!
1 June 2017
VIP Shirley Brill Master Class Course
Arnsberg, Germany
Kursnummer: K604
Info: In diesem Meisterkurs von Shirley Brill werden die Klarinettisten sich im offenen Einzelunterricht mit musikalischen Aspekten beschäftigen, wie auch an den Grundlagen der Spieltechnik arbeiten. Das Repertoire ist frei wählbar, auf Wunsch auch mit Probespielliteratur.
Für Kammermusik steht der Pianist Pascal Schweren zur Verfügung. Eine zusätzliche Möglichkeit zum Üben und Musizieren bietet Assistentin Gil Shaked-Agababa.
Kosten: 259,00 € Schüler der Musikschule HSK: Ermäßigung 10%
Max. Teilnehmerzahl: 10
Anmeldeschluss: 01.06.2017
3 June 2017
University of Auckland Clarinet Day - VIP Marie Ross, Director
Auckland, New Zealand
The University of Auckland Clarinet Day will be the first day-long event in New Zealand dedicated to the clarinet. Professionals, amateurs, students, and clarinet enthusiasts are welcome, and there is no age limit. Entrance is free, registration is required (with a $10 registration fee to cover administration costs).
The day will include masterclasses, workshops, presentations, and performances! The clinicians include Frank Celata from the Sydney Symphony, Peter Scholes, conductor and solo clarinetist of the Auckland Chamber Orchestra, and Dr. Marie Ross, Lecturer of Clarinet at the University of Auckland.
Spaces are open for University-level and advanced secondary school clarinet students to play in Frank Celata's masterclass.
In addition, we will be having a student concert, where University-level and advanced secondary students are invited to perform a movement or short piece (maximum 10 minutes) with Kent Isomura, University of Auckland staff accompanist.

Please make requests to perform in both of these events on the registration form. Performers will be selected depending on space available, repertoire, and experience level. Please don't be afraid to apply if you'd like to play, as we are looking for different types of players of varying age and experience.
Sydney Symphony's Associate Principal Clarinetist, Frank Celata, will give a masterclass, open Q & A session, and a performance. He will discuss his career and how he was able to become a success in one of the world's major symphony orchestras.
As a pioneer in the genre of electronic music with clarinet, Peter Scholes will give a talk about one of the most important contemporary composers, Steve Reich, and his major work for clarinet, New York Counterpoint. Having recorded all 10 clarinet and bass clarinet parts of New York Counterpoint that are to be played by tape along with the live performance, Peter will perform this work, talk about his experiences with it, and demonstrate how it is put together.
Known specialist in historical clarinets as well as modern, University of Auckland Clarinet teacher, Marie Ross, will give a demonstration of historical clarinets throughout different periods, how they have changed, and why musicians still play period instruments today. She will give a short performance with historical keyboard specialist, James Tibbles, on different clarinets from the Classical, and Romantic periods.
4 June 2017
VIP Charles Neidich Soloist with the New York Wind Orchestra at Queens College
New York City
5 - 9 June 2017
Indiana University Clarinet Workshop - VIP Howard Klug, Director
Bloomington, Indiana
Registration Now Available!
Howard Klug, director
(Limit of 20 participants)
Come to Bloomington and work with three international performers/teachers in a hands-on approach to clarinet performance in today's world.
Through a combination of master classes, group lessons and private lessons, VIPs Howard Klug, Steve Cohen and Eric Mandat will work with you to identify your unique issues...and help you develop approaches towards solving them.
We will present you with improved methodology towards:
better/faster articulation

improved tone

adjusting your reeds

efficient practicing

better sight reading

taking auditions

better preparation and proper mind set

rounding out your skills for today's musical environment

learning the first steps to improvisation (Randy Salman)

playing the whole clarinet family (Eb soprano and bass clarinet)
For questions regarding the content of the program, please contact Howard Klug at: hklug@indiana.edu.
*This is an Adult Workshop. Students 18 and younger must be accompanied by an adult.
6 - 10 June 2017
Alexander Fiterstein Clarinet Academy - Full information linked on the title link
Minneapolis, Minnesota
7 June 2017
10 June 2017
4 June - July 16 2017
Round Top, Texas
Summer Institute
Contact: Alain G. Declert, Program Director
Cell Phone: 979-250-3815

DATES:
Arrival: Sunday, June 4, 2017
Departure: Sunday, July 16, 2017
The Round Top Festival Institute offers six weeks (no absence is permitted) of intensive training for young talented musicians (born before December 31, 1999) seeking a transition from conservatories and universities to a future professional career. Symphony orchestra, chamber orchestra, chamber music and solo repertoire are included in this concentrated 6-week program.

The Round Top Festival Institute owns its campus (over 200 acres), its venues (a 1,000-seat concert hall and a 160-seat chapel), its practice rooms, its accommodations, its food service and other amenities (swimming pool, jogging trails…). The whole project has been specifically envisioned and realized by renowned concert pianist James Dick, Founder and Artistic Director, to provide the best environment to implement the program.

The Round Top Festival Institute offers to accepted young artists a full scholarship (worth $5,500) for tuition through The James Dick Foundation for the Performing Arts.

The relatively small number of participants (about 95) whose admission is based on auditions and recommendations and the fact that participants and faculty share the same campus, create a collegial atmosphere through which a constant flow of stimulating exchanges enlightens everyone.

Enrollment includes 28 violins, 10 violas, 10 cellos, 6 basses, 4 flutes, 4 oboes, 4 clarinets, 4 bassoons, 5 horns, 4 trumpets, 3 trombones, 1 tuba, 6 percussions, 2 harps and 4 pianists.

The Round Top Festival Institute is committed to the principle of equal opportunity for all of its applicants for admission. For that reason the Round Top Festival Institute does not discriminate on the basis of race, color, religion, sex, sexual orientation, gender identity or expression, national origin or disability in access to its program.

Symphony Orchestra Training
All accepted participants are enrolled in the Texas Festival Orchestra (TFO) and perform every week after daily rehearsals beginning on Monday and culminating on the Saturday evening performance. Rotation is effective according to abilities. Sectionals are conducted by faculty and/or guest conductor on Tuesdays, Wednesdays and Thursdays. Schedule of Orchestra Rehearsals:

Monday 3:30 pm – 6:00 pm
Tuesday 3:30 pm – 6:00 pm
Wednesday 3:30 pm – 6:00 pm
Thursday 3:30 pm – 6:00 pm
Friday 3:30 pm – 6:00 pm
Saturday 9:30 am – 12:00 pm (dress rehearsal)
2017 Orchestra Repertoire includes
L. van Beethoven Triple Concerto (Perry So, conductor; James Dick, piano; Stefan Milenkovich, violin; Emilio Colon, cello)
Sergei Rachmaninoff Symphony No.2 (Perry So, conductor)
Giuseppe Verdi Requiem (Linus Lerner, conductor; Soloists TBA)
Maurice Ravel Alborada del gracioso (Ransom Wilson, conductor)
Maurice Ravel Piano Concerto in G (Ransom Wilson, conductor; Francois Dumont, piano)
Maurice Ravel Piano Concerto in D (Ransom Wilson, conductor; Francois Dumont, piano)
Maurice Ravel Daphnis and Chloe Suite No. 2 (Ransom Wilson, conductor)
Gioacchino Rossini La Gazza Ladra Overture (Yaniv Dinur, conductor)
Johannes Brahms Violin Concerto (Yaniv Dinur, conductor; Regis Pasquier, violin)
Antonin Dvorak Symphony No. 9 (Yaniv Dinur, conductor)
Joseph Schwantner Percussion Concerto (Vladimir Kulenovic, conductor; Thomas Burritt, soloist)
P.I. Tchaikovsky Manfred Symphony (Vladimir Kulenovic, conductor)
Frederic Chopin Piano Concerto No. 1 in e (Christian Arming, conductor; James Dick, piano)
Maurice Ravel La Valse (Christian Arming, conductor)
Maurice Ravel Bolero (Christian Arming, conductor)
Concertmaster Position
is available to the best violin applicants after auditions.

Chamber Music Program: Young Artists are enrolled in chamber music groups with their peers and also with faculty members.

Private Lessons (one hour each week) and Master Classes are included in the scholarship.
At the beginning of each week, available teaching times are posted backstage of the concert hall.
Just sign up!
Master classes are scheduled in the Edythe Bates Old Chapel.


Ohio State Summer Clarinet Academy - VIP Caroline Hartig, Director
Columbus, Ohio
Weigel Auditorium
The five-day Clarinet Academy provides high school clarinetists with a unique opportunity to develop as musicians; engage with peers from around the state and region; work with Ohio State faculty, clarinet students and alumni; and enjoy the college experience on campus. Activities include private lessons, master classes, chamber ensemble participation and more.
Program director: Professor
Caroline Hartig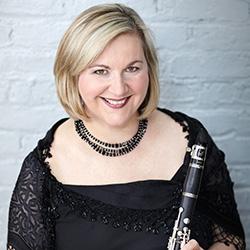 Program Highlights
Private lessons
Master classes
Technique, literature, and theory classes
Daily coached chamber ensembles
Performance opportunities
Eligibility: For students who are entering grades 9-12 in the 2017-2018 school year, as well as 2017 high school graduates.
Program fee: $475 - Tuition, T-shirt and housing with three meals per day.
Instruments: All students must bring their own instruments. In addition to their B-flat clarinet, students may bring E-flat or bass clarinets, if desired.
Important things to note: All students audition on Sunday afternoon for placement in chamber ensembles and for the Student Solos Concert. Students should come prepared to audition on a solo piece of their choosing. Bring piano scores as appropriate.
Clarinet Academy Concerts - All performances are free and open to the public.
---
Registration Information
This program traditionally reaches capacity before the deadline. We will accept the first 50 students who have registered, paid and submitted required forms.
Program registration consists of three steps:
Step One - Registration. Complete an online registration form via the link.
After submitting an online registration, you will immediately receive a confirmation email. If you do not receive it, one of three things has happened:
The email address you entered on your form may be incorrect
The confirmation email was sent to your SPAM box
The online registration was not received by our system
If you do not receive the confirmation email within two hours of submitting a registration, contact the For questions regarding registration, payment, visiting campus etc. contact the Youth Summer Music Programs registrar for further instructions.
Step Two - Payment. Pay the participation fee online according to the instructions contained in your confirmation email. You will receive an email receipt within a few moments of submitting payment.
If you choose to pay with a check or money order (made payable to "The Ohio State University"), mail payment to the School of Music at the address below. You will receive confirmation by email within 7-10 business days.
Mail to:
The Ohio State University School of Music
ATTN: Clarinet Academy-YSMP Registrar
110 Weigel Hall
1866 College Rd.
Columbus, OH 43210
Step Three - Required forms. Parents or guardians are required to print out, complete, sign, and send the following forms:
Mail the completed and signed forms to the address above, or scan and email them to the YSMP registrar.
You will receive a welcome email with further instructions about program attendance approximately two weeks before the event.
---
Directions and Parking
---
Contact
For questions regarding Clarinet Academy curriculum, contact Caroline Hartig at hartig.15@osu.edu or (614) 292-8969.
For questions regarding registration and payment procedures, contact the YSMP registrar.
---
[pdf] - Some links on this page are to Adobe .pdf files requiring Adobe Reader. If you need them in a more accessible format, please contact us.
11 June 2017
Guido Six Memorial Concert with his Claribel Clarinet Choir
Zomergen, Belgium
11 - 17 June 2017
Claremont Clarinet Festival - VIP Margaret Thornhill, Director
Pomona, California
11 June - 5 August 2017
Music Academy of the West - VIP Richie Hawley, Clarinet Faculty
Santa Barbara, California
JUNE 11 - AUGUST 5, 2017
"At the Music academy I spent 8 weeks in an atmosphere that was both musically and socially engaging, in one of the most beautiful cities I have ever been to. The experiences and camaraderie I've gained here will surely stick with me for a long time." – 2016 Fellow
"I came here to get better at the violin. Instead, I went home not only a better musician, but a better human being as well. Thank you so much for two of the best months of my life." – 2016 Fellow
The Music Academy of the West welcomes 140 full-scholarship recipients, ages 18-34, to study and perform during an 8-week Summer School and Festival in five programs: Voice, Vocal Piano, Collaborative Piano, Solo Piano, and Instrumental (including Strings, Winds, Brass, Percussion, and Harp). Auditions take place across the United States and abroad, typically attracting fellows from 50 music conservatories and schools and multiple countries. The Festival takes place on a beautiful 10-acre campus adjacent to popular beaches as well as in venues across Santa Barbara.
Richie Hawley
- See this Clip about the Program
Apply NOW to be one of the clarinet fellows at the Music Academy of the West! Ages 18-34. Everyone accepted receives a FULL SCHOLARSHIP. Lessons and Masterclass...es with me every week!! Top tier conductors like Alan Gilbert, Larry Rachleff and many others. One of the greatest orchestral, chamber music and solo festivals on the planet . The Festival takes place on a beautiful 10-acre campus adjacent to popular beaches as well as in venues across Santa Barbara, California.
"A place of beauty, warmth, inspiration, drive, education, creativity, and excitement!" – 2016 Fellow

"This was a truly transformative summer. I learned from the best, with the best, and had a great time doing it!" – 2016 Fellow

"This was the best festival I have ever attended. The quality of the players, instruction, and community all exceeded my expectations." – 2016 Fellow

THE MUSIC ACADEMY'S UNIQUE EXPERIENCE OFFERS:
Outstanding Faculty & Visiting Artists
Masterclasses & Performance Opportunities
New York Philharmonic Partnership
Marilyn Horne Song Competition/National Tour

12 - 16 June 2017






Clarinet Academy of America

- VIP's

D Ray McClellan

and Robert DiLutis, Directors with VIP Alcides Rodriguez

University Of Georgia in Columbus
Clarinet Academy of America, now in its 7th season, is a collaboration between professors Robert DiLutis of the University of Maryland and D. Ray McClellan of the University of Georgia. CAA's guest artist this year will be Alcides Rodrigues, clarinetist/bass clarinetist with the Atlanta Symphony Orchestra. The 5 days of master classes are hosted annually by both university campuses on a rotating basis. This year, the summer of 2017, the Academy will meet at the beautiful facilities of the Hugh Hodgson School of Music at the University of Georgia, offering a host of training, master classes and performances.
This summer's CAA classes will include a wide variety of subjects and include private lessons and chamber music. Classes will include Reed Making, Phrasing, How to Become a Master Teacher and an Audition Class. Qualified applicants will be either college students, post-college students, professionals, and a select group of high school students.
New Contest for 2017: Play with the Teachers. Based on audition recordings, 2 - 8 students will be selected to rehearse and perform in a quintet with Robert DiLutis, D. Ray McClellan and Alcides Rodriguez on a faculty recital.
12 - 16 June 2017
Fort Collins, Colorado
Wesley Ferreira, Jana Starling, and Guest VIP Robert Spring
At the Lift Clarinet Academy we want you to arrive with a goal and leave with a sense of achievement. Hosted annually by Wesley Ferreira (Colorado State University) and Jana Starling (Western University), the focus is on the individual musical, technical and artistic goals of each participant. Through critical planning and communication prior to the academy, we create a program for advanced high school, undergraduate students, and graduate students that ensures you will receive the musical boost you're looking for.

What sets the Lift Clarinet Academy apart is a focus on the individual. Each participant receives his/her own practice room to support daily lessons and performance coachings. Multiple group sessions and clinics cover a variety of topics from the fundamental to the progressive. Our goal is clear: to give each participant a tailored program with personalized instruction. The academy program also includes activities such as topic and performance masterclasses, participant chamber music performances, and a faculty recital as well as social gatherings that allow students and faculty to mingle and take in some of beautiful Colorado.

Each year, the Lift Clarinet Academy brings in a rotating guest artist/teacher to contribute uniquely to each year's program offerings. This coming year, Julie DeRoche from DePaul University joins the academy as our guest artist. The Lift Clarinet Academy will be held in beautiful Fort Collins, Colorado, in the foothills of the Rocky Mountains; a location designed to inspire.
Attend a clarinet academy where the focus is on you, and take your clarinet playing to the next level!
14 - 17 June 2017
14 - 19 June 2017
15 - 18 June 2017
Clarinet Course in Trossingen Trossingen, Germany
Clarinet Course in Trossingen (Tonkünstlerverband Baden-Württemberg e.V.) - Germany with Prof. Laura Ruiz Ferreres and Rie Shimada (Piano).
From 15-18. June 2017
You can apply until 15. Mai 2017 -> http://bit.ly/2opiyNt
+info; http://bit.ly/2owog0G
...
15 June - 1 July 2017
VIP's Franklin and Diana Cohen, Directors - Check above title hyperlink for complete information
Cleveland, Ohio
17 and 19 June 2017
Senior VIP Karl Leister Performance with the Leipziger String Quartet and Master Class at Vandoren Paris
From VIP Jean-Marie Paul regarding Senior VIP Karl Leister's appearance at Vandoren Paris
Before his coming at Vandoren-Paris on Monday, 19 June in the morning where he will answer your questions (and will play a few pieces), Karl Leister will play Saturday, June 17, at the festival of nohant (26-Indre) the trio of Brahms and Mozart Quintet:
https://festivalnohant.com/…/karl-leister-clarinette-leip…/F
18 June 2017
Mexico
Domain Forget International Music Festival
18 June - 1 July 2017 - Clarinet sessions
19 - 23 June 2017
California Clarinet Clinic - VIP Julia Heinen, Director
The mission of the California Clarinet Clinic is to offer an outstanding summer educational clarinet seminar to talented clarinetists which incorporates mind and body awareness for performance and artistic success. The integration of all these aspects of performance is essential for optimum performance and results on stage.
The low student/teacher ratio will offer a unique opportunity for students to live and work closely with the internationally acclaimed artist faculty in a unique and intimate setting. In addition, the many sessions including Yoga, Pilates, Alexander Technique, Music Therapy, Visualization and Hypnosis will be extremely beneficial to all aspects of performance.
DATES FOR 2017 ARE HERE!!!! - Monday, June 19 – Friday, June 23, 2017
The Clinic will take place at Aldersgate Retreat Center in beautiful Pacific Palisades, Los Angeles. The retreat center is located walking distance to the Pacific ocean.
TUITION – $990.00
Tuition includes lodging for 4 nights of the clinic and breakfast. If your travel plans require you to arrive on Sunday, lodging will be included for 1 additional night (no meals). Participants are responsible for their travel costs to and from Aldersgate Retreat Center.
($300.00 Deposit Due on May 1, 2017 – Balance of Tuition Due on May 15, 2017 – No refunds)
Curriculum and Events
The curriculum will include daily private lessons, masterclasses, clinics and lectures on a wide variety of topics including performance and audition success, mouthpiece trial and selection and orchestral excerpt preparation. In addition, the unique Yoga for Clarinetists and Pilates for Musicians will be offered allowing the participants to experience better performance with less tension and stress with this important mind/body connection.
Students will receive private instruction with all faculty members in addition to chamber music coaching. Participation in masterclasses, clinics and lectures are all part of this wonderful experience!
We will have some outside activities available including a picnic and beach time.
Some of the Unique Offerings at California Clarinet Clinic
Yoga for Clarinetists

Pilates for Musicians
Alexander Technique
Body Mapping
Mind/Body Awareness for Performance Anxiety through Music Therapy
Visualization and Hypnosis for Performance Success
Massage for Tension Relief and Better Performance
Orchestral Audition Preparation and Success
21 June - 20 August 2017
Aspen, Colorado
The Aspen Music Festival and School is the country's premier summer music festival, offering a combination of intensive one-on-one instruction and professional performance experience. Each student coming to Aspen steps into an extraordinary musical world of unparalleled depth and breadth. It encompasses more than 600 students, five orchestras, opera, a robust offering of chamber music studies, master classes, lectures, and more.
Along with private instruction, many students rehearse and perform major orchestral repertoire side-by-side with their teachers and/or with principal players from major orchestras, including those of New York, Los Angeles, St. Louis, San Francisco, Cleveland, Chicago, and Philadelphia. Orchestras perform weekly or accompany one of three professional operatic productions. Soloists and conductors vary by week and are among the world's most revered classical musicians.
Students in all programs can attend more than 300 performances, master classes, lectures, and panels; and, as part of the AMFS community, they make connections that can last a lifetime. Aspen is open to musicians of any age and at any stage of their career. However, the intensity of the professional performance schedule and the exacting standards of quality make Aspen most appropriate for the serious, dedicated musician.
Join Aspen for its sixty-ninth season, and experience what has made the Aspen Music Festival and School a place of artistic and personal transformation since 1949. Summer 2017
Full Session: June 21 – August 20
Half Session I: June 21 – July 23
Half Session II: July 24 – August 20
Teaching and Performance Venues The Aspen Music Festival and School is headquartered at the pastoral 38-acre Bucksbaum Campus located just outside of Aspen among groves of aspen trees, fields, and ponds. In 2013, the AMFS celebrated the opening of the newly redeveloped Campus with all-new performance/rehearsal halls, percussion facilities, and practice rooms. Brand new teaching studios were dedicated in 2014. Campus facilities also include a music library, a dining hall, and the administrative offices. For a full list of performance and teaching venues, visit the Venues page.
23 June - 6 August 2017
Brevard, North Carolina
World-Class Artists and Music
Brevard Music Center stands as one of this country's premier summer training programs and festivals. More than 400 gifted students, ages 14 through post-college, come to the Music Center every summer to study with a distinguished faculty of over 80 artists from the nation's leading orchestras, colleges, and conservatories.
"Brevard Music Center is an oasis away from the rest of the world where I can do what I love uninterrupted for 7 weeks."
Under the artistic direction of acclaimed conductor and BMC alumnus Keith Lockhart – Principal Conductor of the Boston Pops and the BBC Orchestra in London – passion, commitment, and excellence are signatures of Brevard's summer programs.
Participants learn by sitting with principal players from major symphonies, attending seminars with Grammy-winning composers, working with masterful conductors and soloists, and attending the nearly 80 performances presented each season.
Over the past eight decades, the Brevard Music Center has welcomed many of the world's most famous musicians to perform with our talented student orchestras. Yo-Yo Ma, Issac Stern, Itzhak Perlman, Joshua Bell, Conrad Tao, Jean-Yves Thibaudet, and Renée Fleming are just a few of the artists who have graced the stage of our 1800-seat open air, lakeside auditorium during a music festival that welcomes over 40,000 attendees each summer.
A Community of Musicians
The hallmark of the Brevard Music Center is the powerful sense of community that is created every June through August. In a rigorous yet empowering program of instruction and professional performance, students and faculty co-exist on campus, collaborate in the classroom, and perform as one on the stage. Private lessons are complemented and enhanced by participating in orchestral, chamber, and opera performances.
Immerse Yourself in Music
Become part of the BMC community. Experience the thrill of performing with the world's most celebrated artists. Practice your craft and develop your skills in a picturesque rehearsal studio – in nature, beside the lake, amongst the white pines, alongside the stream. Share a communal lunch or an impromptu conversation with faculty and guest artists in our cafeteria. Interact with patrons who fill our auditoriums and love to hear your music.
We welcome you, the next generation of musicians and artists. We encourage you, and challenge you, to experience the magic of the Brevard Music Center. In a community of musicians, you will be transformed. On the stage and in the classroom, you will be inspired. In just one summer, you will make new friendships that will last a lifetime.
24 June - 5 August 2017
Bowdoin Music Festival - Clarinet Faculty, VIP Jon Manasse
Brunswick, Maine
Applications are still being accepted for our Woodwind Fellowship Program. Instruments in this program include bassoon, clarinet, flute, oboe, and horn. Fellows will have the opportunity to study with our faculty, including Linda Chesis, flute; Jon Manasse, clarinet; and James Austin Smith, oboe.
The Bowdoin International Music Festival Fellowship Program is a 6-week fully-funded opportunity for outstanding musicians at the beginning of significant careers in music. The program offers the full resources of the internationally-renowned faculty and Festival infrastructure for an intensive and extensive exploration of solo and chamber repertoire. Fellows work with the Fellowship Program Director to design an individualized schedule and have the opportunity to perform alongside faculty and guest artists in the Festival's subscription concert series. APPLY NOW!
Fellowship Program details include:
Full tuition, room, and board
Private lessons with esteemed faculty
Chamber music
Masterclasses and Festival Insights
Orchestra

Subscription Concert Series

performances

Young Artist Series

performances

Community Concert

performances

Seminars with faculty and industry professionals
Collaborations with guest and student composers
Concert recordings
Tickets to all events
Flexible Schedule
Ample practice time
25 June 2017
Amsterdam , The Netherlands
25 - 29 June 2017
26 - 27 June 2017
Texas Christian University Summer Clarinet Workshop - Dr Gary Whitman, Director
Fort Worth, Texas
26 - 30 June 2017
ClariFest 2017 Guatemala
28 June - 1 July 2017
University of North Texas ClarEssentials Workshops - complete information on the link
Denton, Texas
We welcome high school clarinetists to join us for this, our sixth year of events. We offer intensive instruction specifically designed to improve clarinet performance skills and develop overall musicianship: daily warm up and technique sessions to refine fundamental skills; performance and clinic presented by esteemed guest artist Ivan Petruzziello, Acting Principal Clarinetist of the Fort Worth Symphony Orchestra; masterclasses, clinics, and recitals presented by renowned University of North Texas clarinet faculty members John Scott, Kimberly Cole Luevano, Deborah Fabian, and Daryl Coad; a session on instrument repair and maintenance; a student solo recital; daily chamber music coaching and performance; clarinet choir; and a performances at our workshop finale recital.
Copyright © 1999 WKA-Clarinet.org. All rights reserved.
Revised: June 14, 2017